3ReLoop is an Applied game made for people who have problems walking correctly. This can range from people having a prosthetic leg or people with certain brain damage. They go to the Military Rehabilitation Centre in Doorn to rehabilitate.
What makes the MRC unique is that they make use of the CAREN, a big construction that makes rehabilitating possible in a virtual environment. Our school gave our group the assignment to make a game for the CAREN. A game that would help people with walking problems.
ReLoop was nominated for best Applied Game and Best Co-Production for the Dutch Game Awards.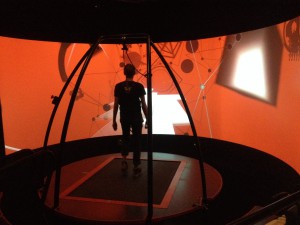 Concept
In ReLoop the player walks on a treadmill that is touch sensitive. By stepping on the treadmill the player releases a sonar in the game. With the sonar the player can collect cubes for a highscore. The higher the score, the more eccentric and weird the world becomes. This disorientates the player purposely so the game becomes more challenging.
Gameplay video here.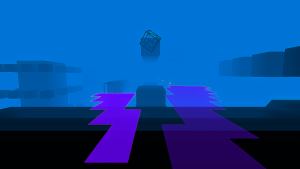 Game Design & Level Design
For Reloop I constructed the entire world in Maya. By splitting the world in pieces we were able to make the world random and modular. Each play session takes about 10 minutes and we wanted the environment to feel different each time.
As a Game Designer I helped the Interaction Designers with gameplay elements to distract the player from focussing on his feet. These gameplay elements weren't implemented unfortunately due to time constraints.
The team
Julien Ranzijn (Programmer)
Rob van Duinen (Interaction Design)
Justin Grupper (2D / 3D Artist)
Remco Meinsma (Project Coördinator)
Christian van Duuren & Wout-Peter Malestein (AV Documentary)
Glenn Verheij (Game & Level Design)