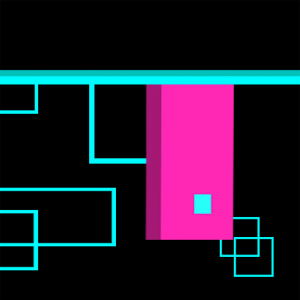 Get it here on the App Store
Get it here for PC / Mac
Flippen is a 2D gravity platformer for iOS and Android. The game is set in an abstract environment where gravity can be flipped at will. Flippen is a challenging game that requires focus, precise timing and quick thinking.
Watch the trailer here.
– Easy to learn, hard to master.
– 50 levels, separated over 5 worlds.
– Hand crafted Level Design.
– 5 unlockable challenge levels.
– Survival mode for endless gameplay and highscore sharing.
– Made with a passion for games. <3
With Flippen Glenn wanted to go through the entire development process from concept and prototyping to marketing and publishing my game on the app store. The hardest part of making a game is finishing it. It's not that difficult to make a prototype but it's a whole other story when you have to polish the game to make it sellable.
The Design, Art and Programming of Flippen is done by Glenn Verheij. The Music and Sound Effects are made by Animist.