The HKU Exposure, an event where graduating students show their end projects to everyone who is interested, for three days. Family, friends, companies and students came to the HKU to see what kind of creators are going to shape the future of Games, Media and Music. As a graduating student myself I also "exposed" my end project Flippen to the public. It was the first time I showed the game in an almost complete final build.
First, we had to build our own stand, which was a funny (and a bit of an irritating) proces. With my awkward carpenter skills I had to rebuild my stand 3 times before I did it correctly. Luckily I got some help the third time. For promotional visual material I bought some A3 sized frames where I'd put in some images from my game and some work in progress stuff. In the middle an A2 promotional poster.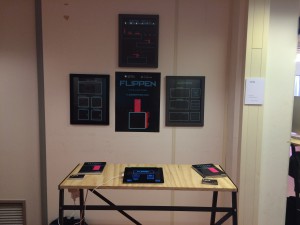 When all of that was done I was not really into the big exposure thing. My stand got a different location because it was removed from its original place. There was a weird kind of stress in my head that I wanted to do things but I couldn't because I had to wait all the time. It made me quite frustrated. Setting everything up was a good learning experience for me. Sometimes you just gotta wait and not panic so much.
On the first day of the Exposure I was pretty early at school. There was a fear my frames weren't stuck on the wall anymore and if so I wanted to buy new ones before the Exposure began. Luckily they hung on the wall just fine so that was a big relief. Because I had quite some time left before the Exposure would start, I went to Hilversum city to eat some lunch and chill for a while.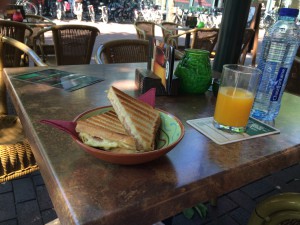 That was a very good idea because it relieved all my stress I had accumulated for the last 2 days of building my stand. It made me so relaxed that I didn't really care anymore if people were going to hate or like what I was going to show. "This is my game, you can play it". It was a good feeling. For the first time I could look at people playing my game without sweating and cringing every time they didn't understand something or when they asked me certain things. By not saying anything people would understand the game just fine by playing it. This made me feel more confident, I was able to talk more easily about the game, why I made it, how and when I'm going to release it.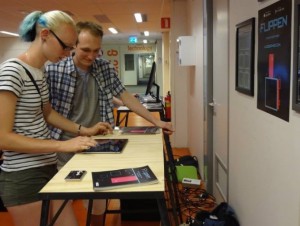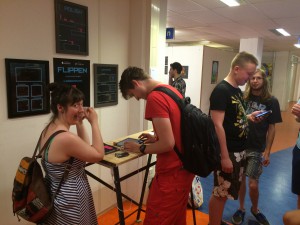 The best thing about the Exposure were the reactions. Overall everyone was so positive! People convinced me that the game was really addicting. They also liked the visual style of the game. This was a big compliment because I'm not a graphic designer at all. People kept playing and smiling even when they died a lot. Old and young players could understand the basic mechanics of the game without me having to explain everything.
Overall I'm really glad how everything went. From stressed out I became relaxed and confident. Fellow students playing and liking the game also helped me feel more confident about what I've made. Now that the Exposure is over I can finish my game knowing I am making something worthwhile.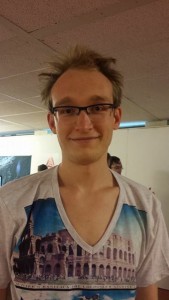 Lastly a big thank you to all my friends who gave me a visit during these exciting (and very hot) times. You the best. 🙂
Glenn